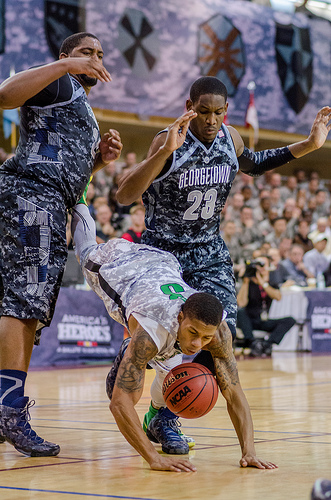 Thinking about Small Ball Strategy
Small Ball is the name given to a style of basketball were height and low post play is at a minimum. Small Ball has evolved because a number of reasons in the modern game of basketball as the sport spreads across the globe. Obviously, at the junior level Small Ball is all about just not having access to genuine Centres and Power Forwards. At the professional level Small Ball has been the basis for a theme of play that pits high intensity and effort base game play, against the traditions of the five players, with five distinctive roles.
Because Small Ball has now become a recognised philosophy within the sport of basketball a whole myriad of strategies and layers within this style of play have developed as a consequence. The richness of strategy has now developed so far that for many coaches this is the only way to play. Therefore, there are some characteristics of Small Ball and we will explore these now.
Extended Defence
Filling a court with players who lack height means that a coach must compensate with other attributes. Some of these are commonly speed, agility and intensity. All of which make extending a team's defence into the full court a natural progression. Teams using a strategy of Small Ball can frequently and quickly move through the full range of defensive coverage variations  that are available on a basketball court.
Match-up Defence
Because Small Ball basketball allows for very similar body types to be on the court at once matching up on defence can be approached with a little more flexibility (within reason). This means that match-up defences (like zones or presses) can be used with a great deal of success. Opposition offenses must learn to truly beat a system rather than attacking the weakest player on the defensive team.
Switching
One of the fantastic aspects of Small Ball defence is that switching can be a strength, and not a weakness. When playing with like players the ability to switch in many different defensive scenarios becomes a very easy and significant advantage. Small Ball in this context allows for better defensive coverage that in turns allows a more pressure focused defensive mindset to be employed.
Run and Gun
The phases of Fats Break, Primary, and Secondary Transition can be played at a very high tempo when playing Small Ball. This I because players as highlighted earlier need to be able to compensate with some other attributes rather than height. Think of this as finding ways to compete. So instilling a pushing the ball up the floor mentality with quick shooting opportunities help work to the strengths of Small Ball.
High Post
Just because a team employs a strategy of Small Ball does not mean that all offense from within the keyway goes out the window. One of the more favourable locations through which to still generate offense from, if undersized, is in the High Post. Facing up to the basket for high post players will assist with engaging an opponent outside of their comfort zone if they mostly guarding players in back to the basket positions. Add to this high post game play like catch and shoot, fake, fake and drive, and counters and a traditional keyway defender can be in all sorts of trouble.
Small Ball provides an opportunity for teams to try to magnify their strengths while reducing the exploitation of their weaknesses. This is really an underpinning value for all teams; it is just that with Small Ball the areas of disadvantage are a little easier to see.
Related articles