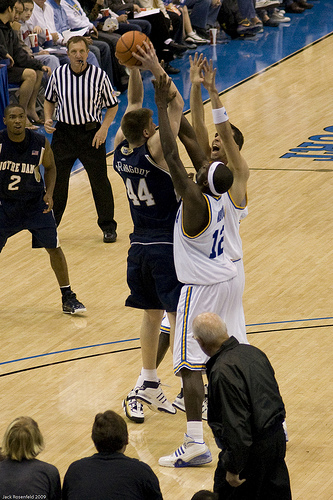 When to Change to a Zone Defence during a Game
A Zone Defence is just one of a large array of options that a coach has during a game. If you do not have an "array of options" then you probably need to think about how you will manage a wider range of situations defensively. A Zone Defence, like all defences has strengths and weaknesses. Depending on the type of defence implemented there will be certain tactical situations in which you will use this strategy to put opponents at a disadvantage. No matter the formation or tactics, there are some times though during a game when a "Zone" can be a good option to change to.
Opposition is on a Scoring Run
If an opposition is continuing to pull away from your team during a game then a switch in the defensive strategy might be the catalyst for something to happen. Of course, calling a time out and refocusing the team around the current strategy is an option as well, but sometimes a change can break the rhythm of the opposition.
Most teams utilise a man-to-man defence as the primary weapon and Zone Defence works best as a rotation defence. By using a Zone Defence sparingly, an opposition will struggle with the free form of a man-to-man defence and then the structure of a Zone Defence. Exposing an opposition in this way also creates the option for a coach to extend the use of the Zone Defence longer if the impacts to offensive output are ongoing.
Extending into the Full Court
A Zone Defence in the quarter court works very well when paired with a similarly structured full court defence such as a zone press. If a team is looking to push their opponents further up the floor then the use of a Zone Defence might be the answer. Being able to collapse back into a familiar structure can sometimes be a struggle for teams when rotating out of the full court back to the half court when using a man-to-man defence. Having a set structure like a Zone Defence often helps with this transition.
Trapping in the Half Court
Trapping can often be a challenging scenario especially in a man-to-man defence. Players become confused on where they should be or what they could be doing. Providing the structure of a Zone Defence can overcome this confusion as players have more clearly defined roles and locations to fill within the defence. These roles are not only relevant to a position on the court, but the other players on their team as well. This makes it easy for players to be able to recognise the play as it is unfolding in front of them.
Players in Foul Trouble
One of the key features of most Zone Defences is that they work on the principle of having two or three lines of defence between the ball and the basket. This means that there are one or two lines of help defence to assist the player match-up against the ball handler at any one time. For this reason, a player who is experiencing some difficulty with foul trouble can be "hidden" to some degree within a Zone by being placed off the ball and in one of the help defence positions.
Slowing the Tempo of the Game
A Zone Defence can be used to also slow the tempo of a game. This however is based upon the assumption that the opposition is having trouble scoring against the Zone Defence or that they have not seen it regularly enough to be comfortable with playing structured offense against it. Switching to a Zone Defence can have the effect of making the opposition pull up and try to do something special against the defence. In some cases, coaches will even call a time out to plan what course of action to take.
The situations described above will not be the only exclusive element that leads to success when using a Zone Defence. The defence itself still needs to be effectively implemented on the floor for the play to be carried out. The more effective a Zone Defence is, the more it can be used regularly and with greater confidence of it standing the offensive onslaught of an opposition. This confidence will be highly valuable in focusing the team's effort and energy into the defence.
Related articles