Basketball Coaching for Better Results
Basketball Coaching can be a very tricky task at the best of times. However, a very common concern most coaches would have at both junior and senior levels is trying to find the key to success. While many coaches would agree there are no simple solutions or quick fixes, there are some things successful coaches do more than other coaches might be aware of. Basketball Coaching for better results focuses on doing things the right way so they bread an atmosphere of success.
The number one basketball coaching strategy for achieving better results is to Communicate openly with those around you. There is no other aspect of basketball coaching which can change a team like good communication. Communication before training sessions, coaching on the run, after training sessions, prior to game day, prior to a game, during the game and after the game there is never a bad time to communicate for the coach. While the amount of time taken when trying to deliver a message when coaching needs to be monitored. Frequent and constant messages in short burst can be delivered with positive effects.
The second key to improving results when basketball coaching is to Know your Players Strengths and Weaknesses. Every players has them, no player is perfect and can do everything exceptionally. Take the time to go through a formal process, if only with the other coaching staff, to evaluate every player in detail. This should be done early on in the season to give the maximum amount of time to use the information and develop the player, which in turn improves the team. This process will not only help with the players development, but also to the strategies undertaken by a coach.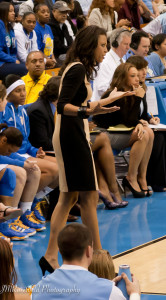 Want better results in games when basketball coaching? Scout Your Opposition and define what will give you the best chance of success. Scouting can have a very dramatic impact on middle of the run and lower placed teams in a competition. This is because the problems can be identified and reduced for these teams one game at a time. Scouting provides information and then options for strategies against an opposition. This is often a very useful tool in helping see the big picture and consider options not normally foreseen when just thinking about tactics and strategy in the abstract.
Set Goals and then hold each other accountable to these targets. By setting goals, players and the team can have a target to aim for. When players have a target to aim for they inevitably do better than if they do not have the carrot out in front of them. Goals help visualise the path to success for everyone involved.
When basketball coaching and not experiencing success it is very easy to become very negative and critical. The next key to achieving better results is to Remain Positive. While constructive feedback will always be part of the character building experience of being part of a team and overcoming adversity, this message does not have to be delivered through a negative context. By remaining positive as a coach, you will inevitably see more options and explore more of these in a relentless push to create your own luck and make things happen. By remaining positive as a coach, you can take the small positives seen and bring them together to make greater things.
One of the great ways to achieve better results when basketball coaching is to Conduct Performance Reviews. Taken straight from the business world performance reviews help provide players with a detailed update about how they are travelling through the trusted eyes of those around them. This can be a great opportunity to promote communication and focus of key areas of a player's future development.
Basketball coaching does not have to be a solo journey. One of the truly great aspects of coaching is that it can be a collective effort. As a coach, another way to improve results is to Delegate Roles and Responsibilities. Roles can be delegated to players, assistant coaches, and managers just to name a few. By delegating, more people can be involved and as a result, more energy and effort can be tipped into the team.
Basketball coaching is a challenging activity and striving to achieve better results is a great trait to have. However, there are good strategies, just the same as there are poor choices that can be made in the name of success.
Related articles