What is Basketball Analytics?
Basketball Analytics is a really hot term being thrown around many different parts of the web. It has been a part of modern basketball for many years, but as with many new areas of development it goes through an ebb and flow of popularity depending on which prominent person has recently commented on the topic. At its core Basketball Analytics is just the analysis of statistical data through a number of different methods. These methods may include the use of tools, processes or procedures. The application of different techniques in data analysis can provide both different and valuable information for basketball teams and coaches to benefit from that might have not been obvious previously.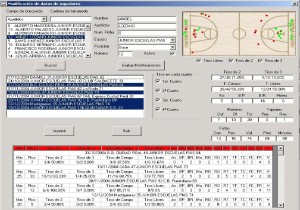 A really common experience that many people would have had with Basketball Analytics is through its application in Fantasy basketball competitions. The efficiency rating given to players for their performance in individual games is an example of the analysis of data using a process. To change this slightly to a series of different perspectives and how these could be generated from looking at the following comparisons around the efficiency rating:
Efficiency rating of a player over the entire season
Efficiency rating of a player versus teams within their conference
Efficiency rating of a player prior to All-Star break
Efficiency rating of a player after the All-Star break
Efficiency rating of a player regular and post season
So what do these examples give us? The answer is information. By having more information, it is hoped that a decision can be made and which leads to a better outcomes for the individual, team and organisation as a whole. Basketball Analytics provides these different interpretations of data and gives a coach some deeper, wider or just different insight into their players. For a General Manager this information might be used to identify when a player is not working out for the organisation and when they should be possibly be moved along to clear space for another player to join the mix.
Nevertheless, player efficiency is only the starting point for Basketball Analytics. There a host of opportunities to look into data and find new and innovative way of interpreting the messages for competitive advantage against other clubs, franchises or countries at the international levels of the sport.
Imagine as a General Manager and Coach in the NBA if you could look at the players involved in the upcoming draft, and determine with greater certainty, out of the players currently available at the Small Forward position who would fit within your teams offensive and defensive systems. This could mean that players that your organisation might overlook come up as creditable options even though they might be smaller in height, not as quick over twenty metres or have never played within a system like your franchises, can in fact benefit your team.
Other features that Basketball Analytics can assist with can be in examining a player's habits. This could be used by teams as a way of performing a gap analysis in the skill sets and tactical knowledge of a player. For example, where does your Point Guard like to pass, what is the percentage of times your Point Guard passes to a shooter at a certain spot on the floor that it leads to a made three-point shot? The information generated can be very specific and used by a coach to improve aspects of team training sessions to then improve the in game the outcomes desired.
From the perspective of scouting an opponent, this might mean analysis that leads to understanding:
How a player attacks the basket from the right side of the floor
How a player attacks the basket from the left side of the floor
How you are going to guard the player from either side to have the highest chance of stopping the score
This might not seem that revolutionary, but think about this in step one and two of the analysis, being able to reflect upon a thousand separate instances of this player attacking the basket. What about looking to see if there are any differences between how a player attacks in the first quarter compared to the fourth quarter. In step three you might be able to analyse not only your teams tactics in defending the player, but how every team has tried to defend this player what has work the best.
We have touched upon less than one precent of the applications for the use of Basketball Analytics but this is a truly frightening opportunity within the sport moving into the future. With every year, more and more innovations are made in regards to what has been done and how this can be improved. Remember Basketball Analytics is about the application of tools and processes to data to create meaningful information, it is just that simple, but this does not tell us the whole story about how powerful this aspect of the sport can be.
Related articles